Mark's Inc. is committed to the environment and is excited to launch its new eco-friendly diary collection. Thanks to their innovative production process, the 2022 diaries will feature recycled PVC covers and FSC® certified paper.
This new collection resolutely looks to the future by embracing sustainability while staying true to the Mark's Inc. design aesthetics.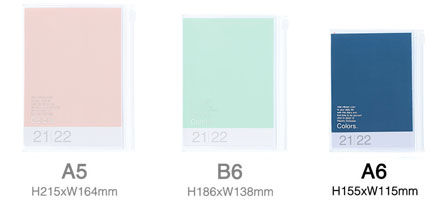 DIARY PAGES
Yearly:
2021 / 2022 / 2023 Double-page Calendar
Year Plan
Monthly:
Sep. 2021 – Dec. 2022 Diary pages (Double-page spread for each month)
Weekly:
Aug. 30, 2021 – Jan. 1, 2023 Diary pages (Double-page spread for each week / vertical 16-hour entries)
Day number & Week number
Holidays in 27 countries and regions (Australia, Austria, Belgium, Brazil, Canada, China, Denmark, Finland, France, Germany, Greece, Hong Kong SAR China, India, Ireland, Italy, Japan, The Netherlands, New Zealand, Norway, Portugal, Russia, Spain, Sweden, Switzerland, United Arab Emirates, United Kingdom, United States of America) *International holidays are represented by icons.
OTHERS
Personal Data
World Time Chart
INSIDE SHEETS
Size: H145×W100mm (224 Pages)
Printed in 2 colors
Weekly Page
Monthly Page
World Time Chart