DIARY PAGES
Yearly

・2020 / 2021 / 2022 / 2023 Double-page Calendar
・Year Plan
Monthly

Sep. 2020 – Dec. 2021 Diary pages (Double-page spread for each month)
Weekly

Aug. 31, 2020 – Jan. 2, 2022 Diary pages (Double-page spread for each week / vertical 16-hour entries)
Day number & Week number
Holidays in 27 countries and regions (Australia, Austria, Belgium, Brazil, Canada, China, Denmark, Finland, France, Germany, Greece, Hong Kong SAR China, India, Ireland, Italy,  Japan, The Netherlands, New Zealand, Norway, Portugal, Russia, Spain, Sweden,  Switzerland, United Arab Emirates, United Kingdom, United States of America)
*International holidays are represented by icons.
OTHERS
Personal Data
World Time Chart
INSIDE SHEETS
Size: H210×W148mm (240 Pages)
Printed in 2 colors
This large-sized scheduler is convenient for taking notes. Vertical design of 16 hours on an hour to hour basis and tripartite free-use pages with monthly schedule pages are very handy.
Weekly Page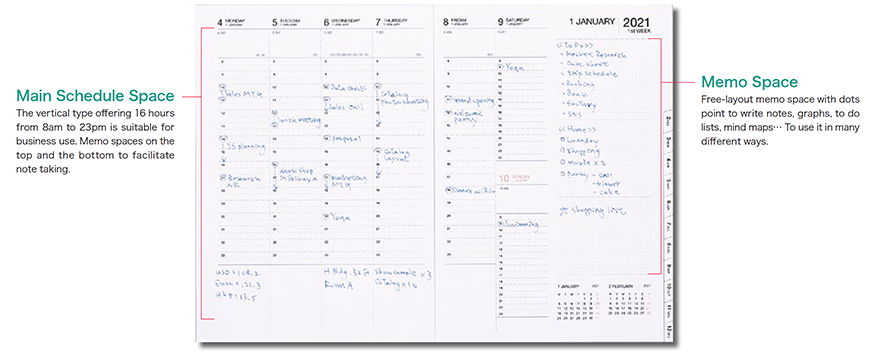 Monthly Page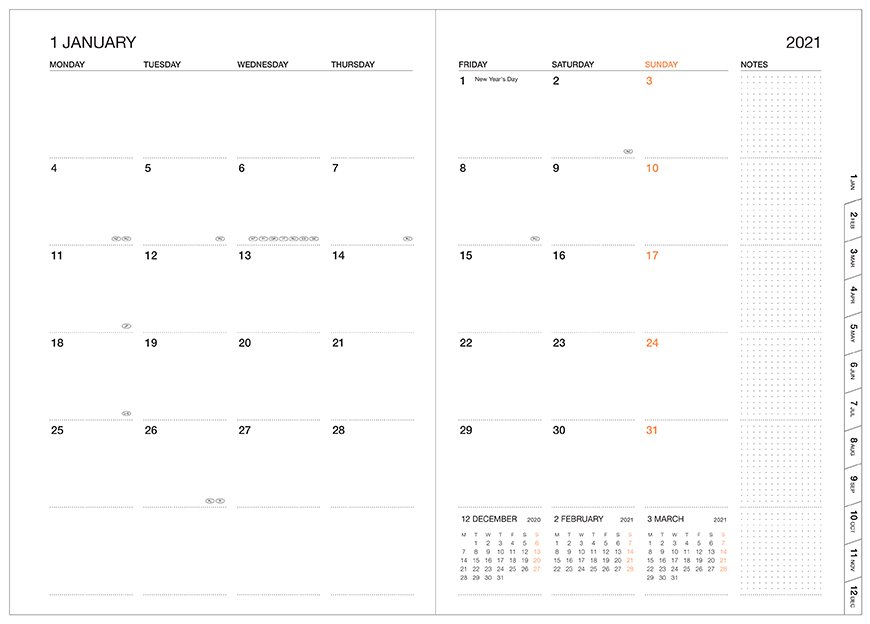 World Time Chart