Since 1839, Pigna is the brand of notebooks made in Italy.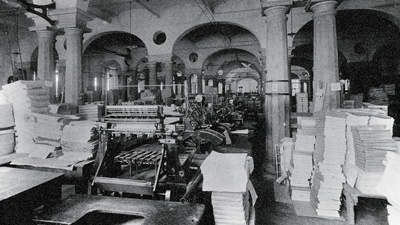 Pigna was founded in 1839 in Alzano Lombardo, near Bergamo, by Paolo Pigna and his family. Today, after 180 years, the Pigna site is still there. The mission, right from the start, has been to create the best Made in Italy notebooks for students and workers as well. Even before the coming of television and advertising, Pigna notebooks contributed to the literacy of Italy and entered the collective notional of Italians, thanks to the graphics and design of their covers. Today Pigna is a leading brand in Made in Italy stationery with a vision in motivating people, from children to adults, to rediscover, express and tell their uniqueness. Everyday.
ItalianTypes notebooks and panners are made with natural paper produced with recycled, ecocompatible and FSC® certified organic cotton fibers.
PdiPigna notebook paper is produced with raw materials from forests managed in a correct and responsible way, according to the severe standards of the international FSC certification. The FSC trademark protects and safeguards the environment. FSC is a NGO that includes among its members NGOs and environmental groups (WWF, Greenpeace), social (National Aboriginal Forestry Association of Canada) and forest owners.
GIO PONTI
"The secret of timeless elegance in the hypnotic, fantastic and rigorous patterns of one of the greatest Italian architects"
A great architect of Italian beauty, designer of skyscrapers as well as iconic and timeless furnishings, Gio Ponti has brought the decor of the ideal Italian home all over the world. In his patterns imprint on ceramics there is the hypnotic fantasy that joins the mathematical rigor and embellish a hotel overlooking the Mediterranean Sea.